eCabinet Systems Software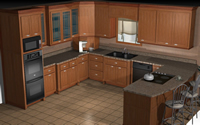 eCabinet Systems is a powerful, capable and sophisticated cabinet and furniture design software tool. As with any sophisticated software, you can interact with it at several levels.
At the first level you simply access and use free libraries of cabinet designs or have Thermwood create custom libraries for you. At this level there is no need to learn how to design or modify cabinets. You enjoy many benefits, yet the learning curve is relatively easy. You can generally learn what you need from manuals and in a few minutes you will be creating jobs and building product.
At the next level, you begin modifying library cabinets, defining your own unique product features and adding price and material information. Now, you get much more from the software but you need to learn how to use the more advanced features. Although many have accomplished this without formal training, we strongly recommend that, at this point, you utilize one of the formal training programs Thermwood offers.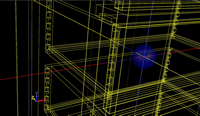 At the power level you can pretty much design any cabinet or furniture in existence. You design your own libraries and configure complex assemblies. You create incredibly realistic room images and are comfortable with any job requirement. You achieve this level by learning software features and capabilities and working with them to gain skill and experience. Many power users visit the forum regularly and can assist you in achieving this level.
Regardless of what level you work at, eCabinet Systems offers sales tools and productivity enhancing features that will benefit any custom cabinet operation. (See Software Features)